Archives For twitter
A tragedy occurred this morning.
Paul Haugen quit blogging.
It's no longer a value in his life.
I for one, am saddened by this death.
Good luck in your future, I will miss your wit.
Oh, wait, you still tweet.
Nevermind.
Here are some helpful hints for those who don't have a smart phone and use twitter though text messaging.
The following is a guest post written by Seth Naumman, a student ministry volunteer and friend at
New Vintage Church
. He tweeted this last night
and I asked him to expand on that thought for a guest blog post. This morning I woke up to this in my inbox. Enjoy.
there are 1,440 minutes in a day. everyday. every morning i'm woken up by the most annoying rhythm courtesy of my cell-phone-alarm-clock. this cell phone rhythm sets the tone for the day. i know i must make something of today, the most of today and believe wholeheartedly in why im getting up today or else instead i should've called in a "personal day" gone and played a round of golf.
throughout my week i come in contact with many types of people from different educational backgrounds and different religious beliefs. the more time goes on the more people discover what i'm all about. i've been noticing some contradictory responses from some of these people. how is it in one sentence someone will say they wouldn't take back their promiscuous youth for anything but in the following sentence tell me "if i want to find a girlfriend i should go to church." people turn down countless invitations to church on Sunday, Christmas eve service and Easter service but if they're going through a real hard time they ask if i would say a prayer for a family member. questions are even starting to be asked about where the bible stands on different political issues. i've also been asked questions about vague meanings and understandings from bumper stickers in relation to the bible.
sometimes you can tell what other people are thinking by the questions they ask and how they interact with you. not everyone you meet will agree with how you spend your time or at least don't agree how you spend your time is how they should spend their time. but if your consistent in your daily manner and live out your beliefs your influence will be undeniably noticed by everyone you meet. over time you will see how your influence affects the decisions of the people around you and what impression you've left behind.
i believe in God and his son Jesus and their mission of saving people from an unredeemable sin. i'm trying to live my life by James 4:14 in which it says "Why, you do not even know what will happen tomorrow. What is your life? You are a mist that appears for a little while and then vanishes." since i'm only going to live for a little while and then vanish i better make this one count. i don't feel i must live in my own little bubble away from the rest of the world in order to stay Godlike. i believe i can live in this world but not of this world (1 John 2:15.) i believe i can associate with the world but that doesn't mean i need to adopt the worlds philosophies, belief systems or behavior in order to relate to people of the world.
everyday your investing in something, in someone and in yourself. over a given period of time you will see the product of your labor. time is your investment capital what and where you are spending that time is your current assets. the product is the end result.
A few days ago I put out a call for submissions for a "home screen contest." Here's the blog post. Friends and tweets have sent me screenshot of their "lock-screen" or "home-screen" from their mobile devices and now it's time to vote for your favorite. The winner will have their choice of a CD by Josiah James or a Kohl's gift card (I'm not revealing the value).
Voting Begins now and will stay open for 3 days (Jan 19-21st). Make sure you get your friends to come vote for your picture! Let the voting begin.
All you have to do to vote is mention he keywords associated with that picture. Here are the words:
Find the picture you like the best, click on it and either tell me the name of the file or describe it in the comments section. At the end of 3 days I'll add up the votes and the winner will get their choice of which prize they want.
Voting Begins NOW.
A couple of days ago I tweeted this:
"This is what my homescreen on my phone looks like. How about yours? #homescreen http://yfrog.com/h5bn2wj"
I've got a few responses. Mostly iPhone, a couple of iPod touch and one Evo. Send me your home screen "screen shot" and I'll include you in the final post. In the next post you'll be able to vote for your favorite and the winner will get either a Kohl's giftcard or a CD of my friend Josiah James.
The screenshot below is from Julie Sayler Biorkman.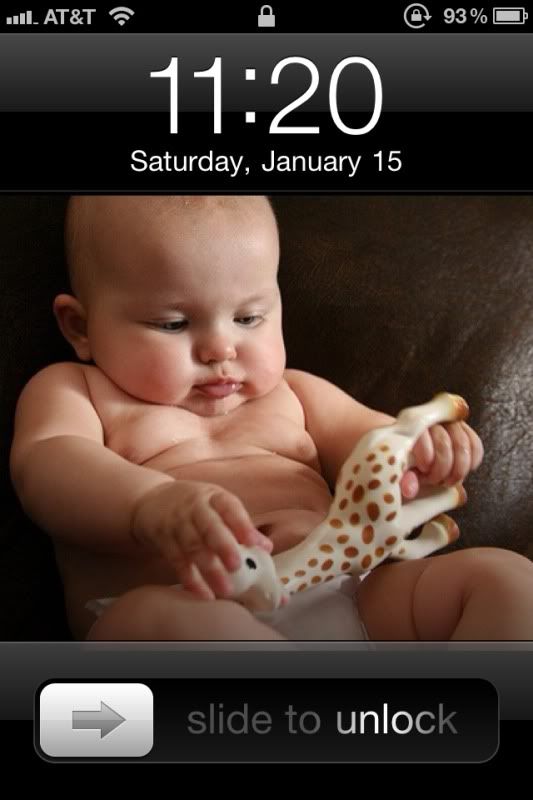 What does your look like?
Send me your pics of your homescreen.
I still have a few months left before I hit this milestone, but Paul Haugen turns 30 today! Go wish him a happy birthday (twitter, facebook, tumblr). – This video was created during a layover in the Dallas airport last Spring.
If you tweet, let me know your twitter name so that I can follow you. Because if you read my blog, I want to read your tweets. Put your twitter name in the comments below. Meanwhile, follow these fantastic peeps: Erica, Andy, Paul, Jenn, Seth, Chris, Erika, Amy, Nathan, Jen, Randy, J, Greg, Carin, Fernando, Emily, Dan, Amy S., Marc, Vincent and Kyle (all part of our growing New Vintage Twitter population). You can also follow our Student Ministry Twitter Account.
I got and email from Leadership Network today and it had an interesting article on churches and social media. It's pretty dead on in my opinion.
A lot is going on in "social media" today – how should churches define that space?
Churches should view social media as being equally important as their websites and as any other core communication tools they may already be using. Successful churches meet people where they are, and right now the "where" digitally/web-wise is, without question, Facebook, Twitter, YouTube and other related social media forums. If you want to be part of the conversation on any level, you have to be around the same table as those you're trying to converse with.
Why does social media matter?
First, social media is a game changer. Right now the community-wide water cooler is social media, predominantly Facebook.
This is where people talk about their lives, their needs, what's important to them, their struggles and their victories. The church needs to be "hearing" these things and then responding when appropriate. It's a window into the lives of your people and the people you are trying to reach. No longer are you dependent on someone calling you to deliver news; there's a constant stream of it right there in front of you.
A second reason is relevance: a relevant church knows and understands the things that impact its people and its community. If you're in a farming community you should know all about rainfall, government subsidies and all the other things that affect your community. If you're in a suburb it's typically all about the schools and the ball fields. Social media is bigger than all that because wherever you live it encompasses every single part of daily life. Being part of that shows you care, that you get it, and that you're not out of touch.
What are some statistics about the various types of media that churches shouldconsider?

Facebook has more than 400 million active users globally, with over 100 million in the U.S. alone. Women use Facebook more than men and they are primary communicators for their families, especially for church stuff.

The largest segment is people between 18-54 years old. Half of active users log onto Facebook on any given day. On top of that, more than 100 million active users currently access Facebook through their mobile devices.

Statistics get a little fuzzier for Twitter. The word active is important here because more than 60% of Twitter users abandon their accounts within first month. There were just over 20 million active users by the end of 2009, mostly in the United States. That is expected to rise to about 26 million in 2010.



About 10% of the users generate 90% of the content. In other words, there is more listening than talking. It is more of a conduit to you as opposed to from you. It is more of a professional tool than a personal tool in contrast to Facebook.
Twitter can be a great tool if your crowd uses it, but if not don't expect to convince them on it just because you are tweeting.
How important is it for churches to match their audience with the right media?
Extremely. When you do anything as a church you have to ask "why" and "who are we doing this for?"
If you're a small, declining church full of senior citizens, social media is probably a waste of time for you. although that may change in years to come. If you're an "average" church reaching a good mix of all ages, Facebook is for you as it will touch the most people. Twitter is more of a professional tool used by a professional crowd, and even then it's still used by a small percentage of those folks.
For example, the church where I am a member is about 1,500 in attendance each week, it is very affluent and it's in an upper middle class area. There are tons of professionals but realistically less than 20% are probably active on Twitter — and that's being generous. For most churches, Facebook is the best way to go.
What are the first steps in establishing this type of approach?
First, know your audience, what they are using and how they are using it. So survey your crowd. Second, know who is going to monitor and maintain everything and make it part of their job description. If this isn't planned out it will fall flat, just like most church websites do. And third, if you need help, hire a coach/consultant to come in for a few hours or a day and walk you through everything.
What are the negatives with social media?
In general it can become a huge time sucker. There is a fine line between using it and letting it use you. You need to be strategic and intentional in how you use it. Also if you're the type of church that is very image conscious, you need to be careful about who is responsible for speaking on your behalf in these forums. It has to be someone you trust to make wise decisions, but it shouldn't need to be the pastor, who probably already has enough to do.
Should all pastors Twitter? In a recent gathering of our next generation pastors group they said they all do.
"All" pastors should not. But those who are eager to learn and value input from others can greatly benefit from the flow of information that can come to them via Twitter. For next generation pastors it's a no-brainer. It's a great way to hear about new books, conferences, trends, blogs, what's working and what's not, etc. — it's a great listening device. And for those who have something of value to add to the conversation, it is the perfect forum to engage in the exchange of ideas.
That jives with what they said. They find it a small part of their communication with their congregation but a big part of communicating with other pastors.
What does your company do to help churches in this area?
Big Picture Media provides all level of coaching/consulting related to social media, from on-site, to web and phone support, one time or ongoing. We can help a church develop a social media strategy as part of their overall communications plan. We can help them create that entire plan or help to incorporate the social media component into whatever strategy is pre-existing.
We also do anything and everything related to media. Branding, market positioning, overall communication strategy development, copywriting, print design, web design, video production, etc.  Our team has 30 + years of church staff experience and all are heavily involved in their local ministries and churches. We speak the language, we walk the talk, and we love what we do.
Here are some pictures I snapped this weekend at New Vintage Church.
You've got come join us for week 3 of our Orange Series this coming Sunday (not Sat night service – Oct. 3, due to the Rock of Ages festival in Calistoga). Follow NVC on twitter.